Exporting Classic Antique Timepieces Around the World
PENDULUM of MAYFAIR WORLWIDE EXPORTS
Pendulum of Mayfair has been shipping our lovely selection of antique clocks and furniture to the USA and further afield for the last 20 years. We use our recommended antique and fine art shipper whom we have dealt with for many years.
They deal with every aspect of the shipment until it reaches your door. From cleared payment total shipping time can be in as little as two or three weeks.
Mayfair
OPENING HOURS
Monday to Friday 10am - 6pm
Weekends By Appointment
LOCATION
King House
51 Maddox Street
London, W1S 2PH
United Kingdom
Tel: +44 (0) 2076296606
Fax: +44 (0) 2076296616
Email: pendulumclocks@aol.com
Great Value Genuine Antique Clocks & Furniture
Pendulum of Mayfair have one of the finest selections of British antiques in the UK. There is no need to pay inflated prices that you will commonly see in the USA, you can choose from our comprehensive stock of fully restored genuine antique clocks and furniture and these will be delivered to your home wherever that may be in the US or overseas.
We are able to offer special export discounts on anything we export which for most pieces will cover the export costs you will experience.
Our antique clocks come with very simple to follow setting up instructions and we have a telephone helpline available should any questions still need answering.
All our clocks and antique furniture are guaranteed and are fully serviced by our own highly qualified horologists.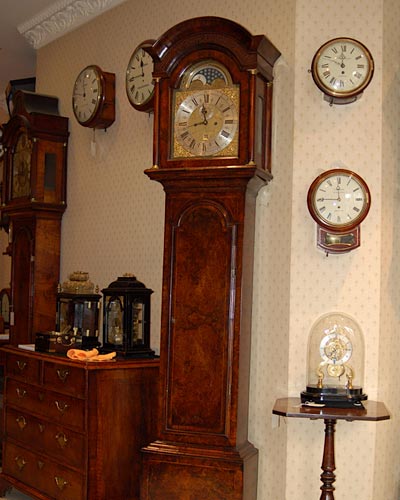 OUR ANTIQUE CLOCKS
Pendulum of Mayfair - London UK
Our long established family business has been at the forefront of the antique clocks world for over 40 years, and now Duncan and Daniel are the second generation family clock business custodians, and they run our operation from Cheshire and London respectively.
At Pendulum of Mayfair we have many happy customers from all over the globe, and we treat everyone as friends and all will receive the special attentive personal service.
We have sold antique clocks to just about every major city within the USA including: New York, New Jersey, New Orleans, Houston, Dallas, Washington D.C., Los Angeles, San Francisco and even Minneapolis. We have sold clocks further afield to places like Beijing in China, or to countries like Australia and New Zealand.
I am happy to provide references, these are available on request.
Our Antique Clocks & Furniture
Antique Clock History
Time is something as a society we all rely on, without it our fundamental aspects of our day to day regime would be in caos. Antique clocks have served British homes for the last 350 years, with London being the centre of the world's clockmaking with the formation of the Clockmaker's Company way back in 1631.
The greatest period when the finest clocks were made in the UK was from c1680 to C1810. Later you go than that, increasing labour costs means quality takes a nosedive for all but specially hand made items. One important aspect of earlier antique clocks is that they are handmade of the finest quality, they have lots of intrisic labour costs built in, making them excpetional value for money by today's standards.
SHOPPING & CULTURE
Our City London
London like many top cities around the world has so much to offer. We are a very multinational city, with so much to see and do whilst exploring London.
We have sold our antique clocks abroad without the need to view in the flesh but we also advise making the effort to pop by our shop. You will be in awe of the quality we have on offer.
It would be great to meet you in London.
© Pendulum of Mayfair 2015 | Created by Accend